HT-7200 HT-7100
Main Feaures: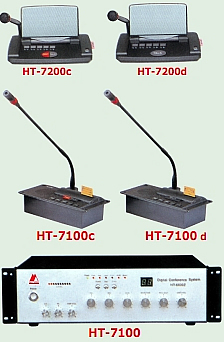 Designed in accordance to ISO and IEC 914digital conf-system
Furnished with vote and sign in function.
Embedded and portable configuration is optional (HT 7100).
The system can support 70 units and can be extended upto 200
Units with additional power supply.
Equipment are easy to connect and maintain.
Build-in telephone interface for telephone conference.
Unidirectional electric MIC and crisp voice loudspeaker.
The system automatically calculates vote results and stores into database.
Self-check: Auto check on working status to find out mistakes and have it revised.
Vote manner : yes/no/abstain.
FIFO mode : first in, first out.
Can be used with computer and video camera to make video Camera auto-track.
Build-in feedback reduction circuit and volume control.