Portable System
Common Mainframe HT-7700/HT-3100
Main Features:
Controller:
Designed accordance to CE, CB and CCC standards.
The system power supply for ail the delegate units is provided by the main frame at 24V safe voltage.
Built in power supply cevice anc signal amplifier can support more groups.
The system can be extended to 150 units at most
Four groups of 9P-DIN plugs for system connection
Can offer power and data communication socket for video processor
Possess output socket fo' audio equipment
Can be offered with or without vobng facility.
Equipped with BALANCE socket for connection interface voting result device.
Built-in telephone interface fo' telephone conference
Built-in volume control
Built-in 2 x 50W amplifier (100 W)
Built-in monitor loudspeaker (1W)
System volume control
Equipped for AUX input socket, and the volume control
Equipped for wired microphones input socket
Equipped with nine LED audio frequency indicator lights
Digital csoay anc working mode indicator lamp on the panel
Equipped with three buttons for choosing mode: set / mode / enter
Power consumption : 550W
Support the function of video camera auto-track.
"MIC Auto-off" function
HT-7700C Chairman Unit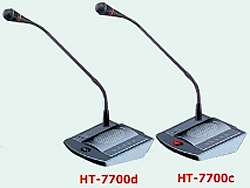 HT-7700d Delegate Unit
Designed by the latest digital technology.
1.5m long cable with 9P-DIN plugs for system connection.
High quality condenser cartridge equipped with windshield cover.
The red indicator lamp shows the state of the microphone.
When the microphone is on, the built-in loudspeaker and the neighboring linking delegates loudspeaker are muted automatically to prevent feedback.
Equipped with an earphone output jack and a RECORD output jack.
Microphone has vobng functions.
Chairman override facility.
Frequency Response : 100 -13 KHz
Sensitivity: -44 =\- 2dB
HT-3100c Chairman Unit / HT-3 100d Delegate Unit Embedded System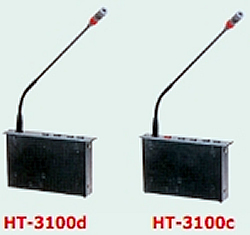 Chairman override facility.
Equipped with an earphone output jack and wireless mic input Jack.
Indicative sound for chairman unit (optional)
With voting functions.