The Simultaneous Interpretation System is also micro-processor controlled. Offering the user considerable flexibility in operating procedures. Channel routing can be preset or be under the control of the interpreters, and the interlocks between channels can be varied. The system can be portable or fixed and the interpreters desks comply with ISO and IEC Standards. Cabling is greatly simplified and the system connects on a bus principle using only and audio cable and a data cable.Wireless distribution systems are more suitable for multi-purpose venues where the furniture is movable.
The Infra-red System offers more channels, better audio quality, and since the radiation can be confined it is particularly suitable for venues with divisible rooms or where multiple systems are in use in close proximity. It does, however, require the fixing of emitter panels in the ceiling or around the walls of the room.
IR Language Distribution System
IR Transmit main unit HT-6100

High security, without external interface.
Suitable for any conference hall.IR1
Automatic level control function (AFC).
Easy to operate and save in project cost.
With the most advanced MODEM technology.
Elegant configuration in accordance to ergonomics.
Input channel direct function.
6CH interpretation.
Self-test function, 6 kinds of testing voices for system test.
IR Transmitter HT-6100S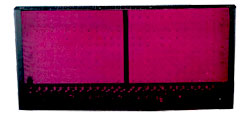 Strong IR power transmission distance up to 40M(25W) or 15M(15W).ir2 2
6CH uses the same IR Transmitter.
15W and 25W IR Transmitter.
Half radiator angle: ± 22
HT-612Y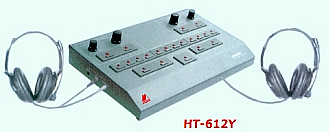 Simultaneous Interpretation-Interpreter Unit
Designed by digital technology.
Work with HT-EP210 (Interpreter's headphone)
Easy to operate with single press.ir3
Voice adjustable and with feedback prevention.
In case the interpreter does not understand the speaker's language, he could switch to other channel to listen other interpreter's voice and then interpret it.
Delegate speak too fast, give request to "slow" speed.
Automatic numbering on system units.
Interpreter's cough switch.
One interpreter's unit can be shared between two interpreters.
IR Receiver HT-6100dir4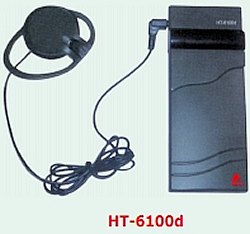 Smart configuration and modern style appearance conforms to ergonomics.
6 language channel selection.
No interference between channels.
Easy to operate.
Elegant configuration.
Rechargeable battery, 40 hours working time.
Equipped with earphone / volume control.
Receiver units has no limitation within IR radiation range.